They're Gone
By Teresa Sutton
For anyone who has ever experienced a deep loss, "They're Gone" plumbs the depths of the inevitable human quest for understanding and acceptance.
Reviews
All the more poignant for being understated, Teresa Sutton's They're Gone illuminates the connection between disastrous political and environmental decisions and their devastating effect on a particular family. Both ironic and compassionate, these carefully crafted poems pay tribute to the very human ways in which we struggle to cope with tragedy.
− Kathleen Aguero, Author of Daughter of, The Real Weather, and many other titles.

Illness and death raise fundamental existential questions, moral questions about how we should live life, that we should be asking when not in the shadow of death. Teresa Sutton provides us with the opportunity to make those reflections. Her poems shape a memento mori for our thoughts. The poems in the voices of family members years after the loss are especially provocative for our meditations.
− Dr. John Briggs, Author of Fire in the Crucible, Fractals: The Patterns of Chaos, and many other titles.
Teresa Sutton's poems are haunted; lost brothers, months apart, lost mother, soon after. Like Emerson with his wife in her closing poem, Sutton's poems, with their straight-to-the-point music of plain speech, visits them daily, digs them up, perhaps to see if they are really dead, perhaps to touch them again, perhaps to test the relationship of the soul to the world. We close this book, carry our dead with hers.
− Cornelius Eady, Author of Hardheaded Weather, Brutal Imagination, and many other titles.
OSSORY WOLVES
By TERESA Sutton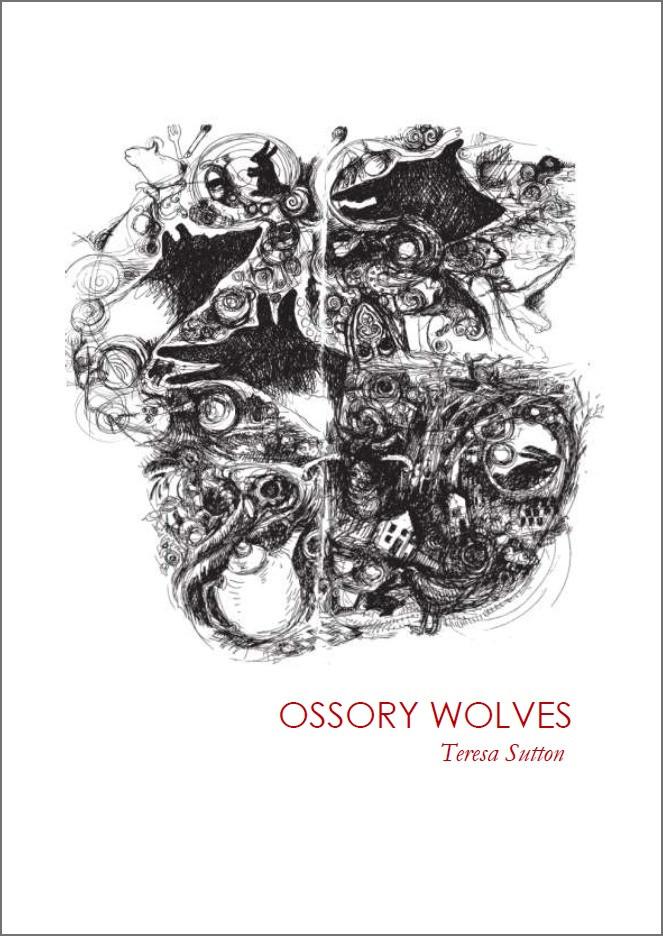 Ms. Sutton's second book, "Ossory Wolves," was published by Dancing Girl Press in Sept. 2016. It's based on a Celtic myth, "The Legend of the Ossory Wolves," which is contained in Gerald of Wales The History and Topography of Ireland. "Ossory Wolves" follows the journey of a husband and wife trapped inside of wolf bodies as a result of a curse. Ms. Sutton's chapbook was a finalist in the 2014 Bright Hill Press' Poetry Chapbook Competition.
Breaking Newton's laws
by teresa sutton
winner of 2017 encircle poetry chapbook competition
Ms. Sutton's third chapbook, "Breaking Newton's Laws," is about her father's dementia.
Praise for Breaking Newton's Laws:
In these luminous poems, Teresa Sutton brings us as close as anyone could to the interior landscape of those suffering from dementia: "He sails away on the Santa Maria bound again/for the Korean War and heads off to the dinner table/where he pours himself a glass of water full of ash." Using myth, metaphor, and carefully chosen imagery, the poet rises to the challenge of creating language for what can be known only through empathy and imagination, but the delicacy of these po-ems never disguises the grief and loss of this experience, as in these lines from "The Moment Before": "Soon you will be rain streaming from me,/a dogged echoing of bird calls,/ a twinkle of bravery,/an ex-plorer we dread to go after. —Kathleen Aguero, author of After That
In this, her stunning third collection of poetry, Teresa Sutton explores the haunting question—what is left when the mind fails? Her unset-tling poems translate the language of dementia by upending theories of time and space. A dying father, whose "lungs fill with honeybees," swims toward dislocated shorelines, fighting "the kind of sleep that falls in giant flakes." Sutton's poems vibrate with enigmatic revela-tion—"It is terrible to survive loss/more terrible to survive love." When the mind fails, what's left? For Sutton, a ceaseless, dazzling orbit.—Nancy K. Pearson, author of The Whole by Contemplation of a Single Bone, Fordham University Press (Poets Out Loud Prize), and Two Minutes of Light, Winner of the L.L Winship/PEN New England Award